WHAT IS ADS.TXT?
Ads.txt is an initiative by the Interactive Advertising Bureau to enable publishers to take control over who can sell their ad inventory. Through our work at 10up with various publishers, we've created a way to manage and validate your ads.txt file from within WordPress, eliminating the need to upload a file. The validation baked into the plugin helps avoid malformed records, which can cause issues that end up cached for up to 24 hours and can lead to a drop in ad revenue.
For WordPress Websites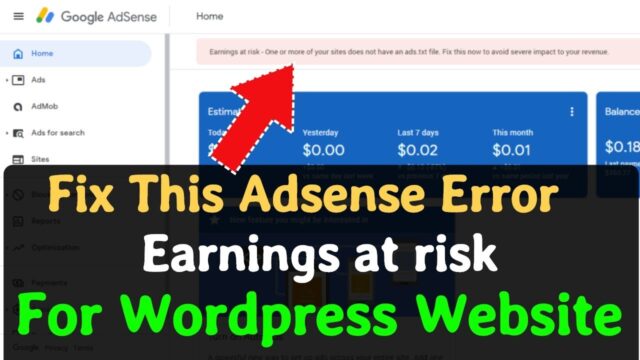 Step 1
Download and activate Ads.txt Manager plugin if you are using WordPress
Step2
Under Settings go to Ads.txt page to configure plugin settings.
Step3
Copy and paste the code from your adsense account to the ads.txt
google.com, **pub-xxxxx, DIRECT, f08c47fec0942fa0
**Don't forget to replace pub-xxxxx with your own publisher ID.
Step 4
Save changes and verify that it works by visiting www.yourwebsite.com/ads.txt
In this video, I explain how to fix the AdSense error – "Earnings at risk – You need to fix some ads.txt file issues to avoid severe impact to your revenue.